Artistic Refuge
On Jeanne Vockroth's 15th birthday, Hurricane Katrina roared into New Orleans and flooded her family home seven feet high. Nothing was saved except for a cache of photos that her mother double bagged and placed on a high shelf, and Jeanne's own memories of home and loss, which have inspired a rich array of textiles, sculptures and works on paper.
Jeanne and her family eventually found refuge in Fayetteville, where she rejected art school in favor of the University of Arkansas after learning about the Honors College fellowship program. "The fellowship sealed the deal for me," Jeanne said. "I wanted the opportunity to study abroad, and I wanted to study the humanities as well as fine arts. When you study art or music, you get so immersed – it's good to be taken out of it to focus on other things, because that's what feeds your art."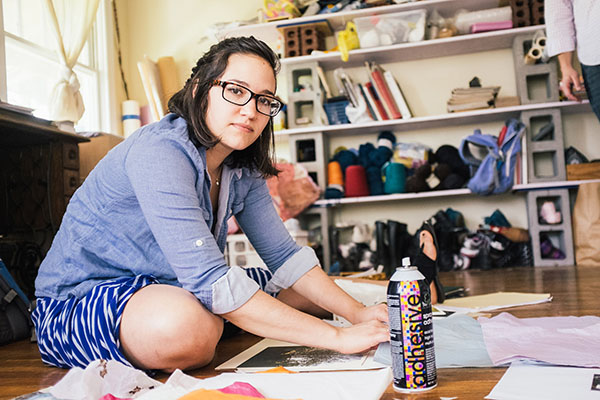 Jeanne's fellowship funded a year in Florence, Italy, where she studied weaving, fabric dying and clothing design – and developed a renewed appreciation for being rooted in a particular place. Jeanne also won a scholarship to study weaving at Penland School of Crafts in North Carolina.
For her honors thesis Jeanne returned to those salvaged family photos, incorporating them into a sculpture installation that used boats to explore the themes of home, family and the trauma of displacement. A thin line of sepia ink, drawn seven feet high around the space, marked Katrina's destruction in her childhood home.
Jeanne earned her B.F.A. degree with an emphasis in sculpture, summa cum laude, from the J. William Fulbright College of Arts and Sciences in 2012. She was selected for a summer fellowship at Mildred's Lane, a residential art program in Pennsylvania where top students collaborate on a project and work with visiting artists. Eventually, she hopes to return to New Orleans. "There's been a huge growth in the arts since Katrina, and there's a new energy in New Orleans right now. I see a lot of potential for amazing and great things to happen there," she said.
By Kendall Curlee