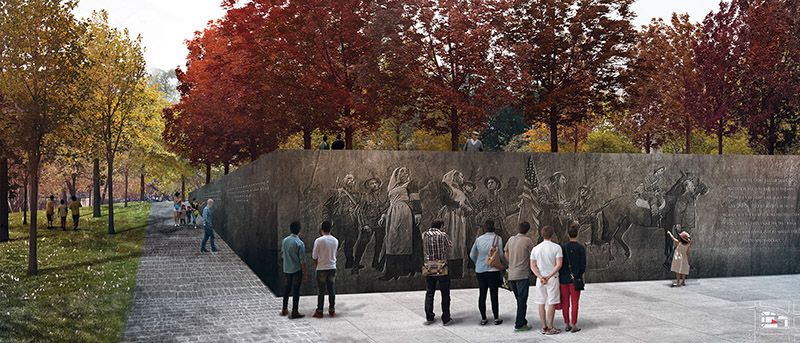 Designing History
Honors architecture alumnus Joe Weishaar, 25, to design national WWI Memorial
By Kendall Curlee
A phone call from the Chicago Tribune was the tip off: Joe Weishaar, a 25-year-old University of Arkansas alumnus from Fayetteville, learned from a reporter that he had prevailed in an international design competition that drew more than 350 other entries.
Weishaar, a 2013 graduate of the Fay Jones School of Architecture and Design and the Honors College, has been selected to design the first national World War I Memorial located in Washington D.C. His project, titled "The Weight of Sacrifice," will be located in Pershing Park, just yards from the White House grounds on Pennsylvania Avenue. It is hoped that the memorial will be ready in November 2018 to mark the 100-year anniversary of Armistice Day, which ended the Great War.
"It's amazing — I never expected this in a million years, and it's the best feeling ever," Weishaar said, reached by phone after a whirlwind 24 hours of talking to reporters around the country. "It's almost impossible to describe how much this is going to change my life — moving forward, this will be a big transition."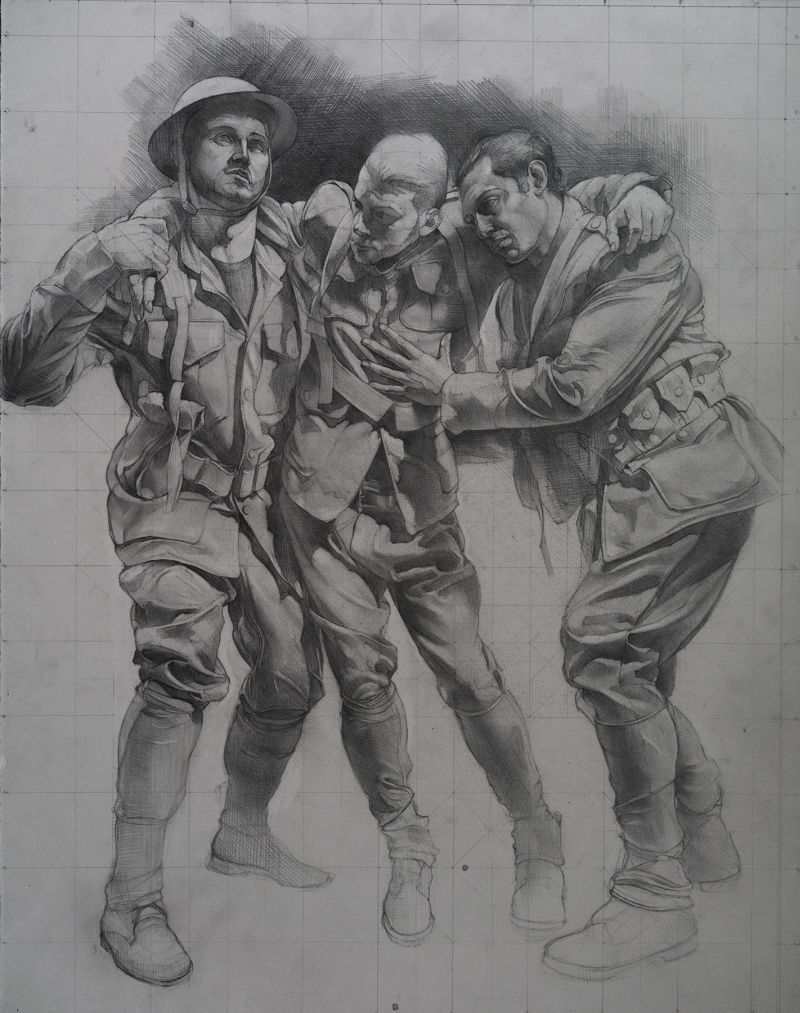 Brothers in Arms
Weishaar is currently putting in long hours as a project architect and intern at Brininstool+Lynch in Chicago. He worked nights and weekends to come up with his design proposal. "The Weight of Sacrifice" calls for the creation of a raised central lawn supported on three sides by walls, each cubic foot of which represents a U.S. soldier who died in the war: 116,516 in all. The walls will feature bas-relief sculptures of scenes from the war, punctuated by quotations from politicians and soldiers. The plan also calls for a freestanding sculpture that is "still on the boards," Weishaar said.
Edwin Fountain, vice chair of the U.S. World War I Centennial Commission, praised Weishaar's proposal as "a very intriguing design, in that it combines both classical and modernistic elements … in its approach to landscape it takes a fairly modernist landscape design, it's very orthogonal, it uses open planes, but in the memorial elements, they're very neoclassical."
That classical/modern hybrid informed Weishaar's strategy from the get-go: "The landscape design is very modern, recognizing elements of the existing park," he said. "The sculpture has taken on a very classical look and feel, to relate to the time period of the war. Also, very figural sculptures are going to tell the story a lot better than the abstract figures. I really hope the design will win over both crowds – the classicists and the modernists."
Weishaar is very young to tackle such a high-profile project, but has adopted a collaborative approach to get the job done. After being selected as one of five finalists in August, he turned to veteran New York City sculptor Sabin Howard for assistance in developing his design. "He dropped all of his other work to sign on, and he's one of the best neoclassical sculptors in the country, if not the world," Weishaar said. Others included on the professional design team are the Baltimore architectural firm GWWO Inc.; Phoebe Lickwar, an assistant professor of landscape architecture at the University of Arkansas; and engineering consultants Henry Adams LLC, Keast & Hood and VBH.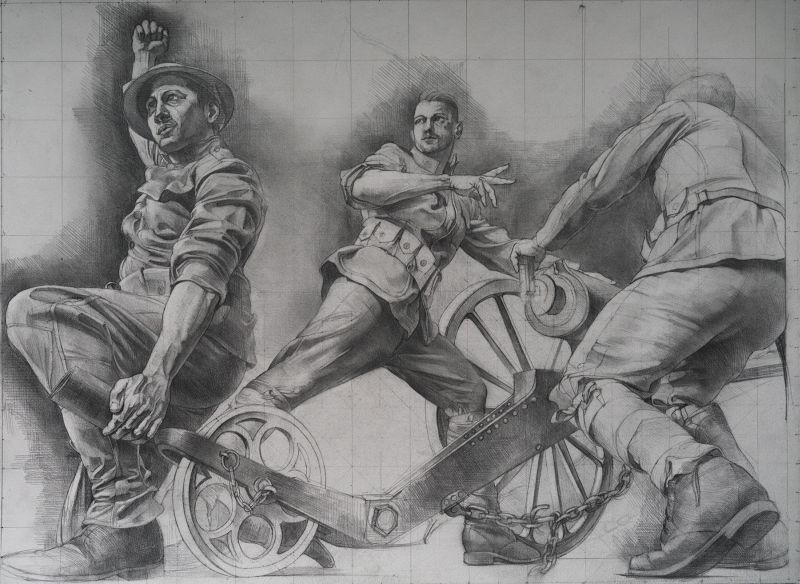 Wheels of Humanity
Weishaar is quick to credit his professional architectural training and honors studies at the University of Arkansas in preparing him for this monumental task. "I couldn't have done this project without my experience at the U of A, in no way, shape or form," he emphasized. Thanks to support from an Honors College Academy Scholarship and an Arkansas Governors Distinguished Scholarship, Weishaar traveled the world. He studied landscape design and urban space in the Fay Jones School's Mexico Urban Studio, and his second place win in the 2011 Lyceum Fellowship Competition also funded urban studies in the University of Arkansas Rome Center and points across Europe. "This helped me understand what urban space means to people around the world," he said.
Weishaar's honors thesis, which focused on architectural forms and urban space in ancient Pompeii, also helped him in developing a design proposal rooted in history and located in one of the most august public spaces in the nation.
The proposed site in Pershing Park has stirred up controversy. Critics, chief among them Charles Birnbaum of the Cultural Landscape Foundation, say that the new memorial would destroy the 1981 design by M. Paul Friedberg. The next steps hinge on whether or not the park is added to the National Register of Historic Places, as well as fundraising. The project is expected to cost $30-$40 million, to be raised from private funds.
"I think the final selection will really help with fundraising," Weishaar said. "Now people can see what the monument will look like." Just a day after getting the good news, Weishaar was preparing to fly to Washington, D.C., to meet with the commission and plan the next steps. His late nights dwelling on the past have propelled him into a very bright future.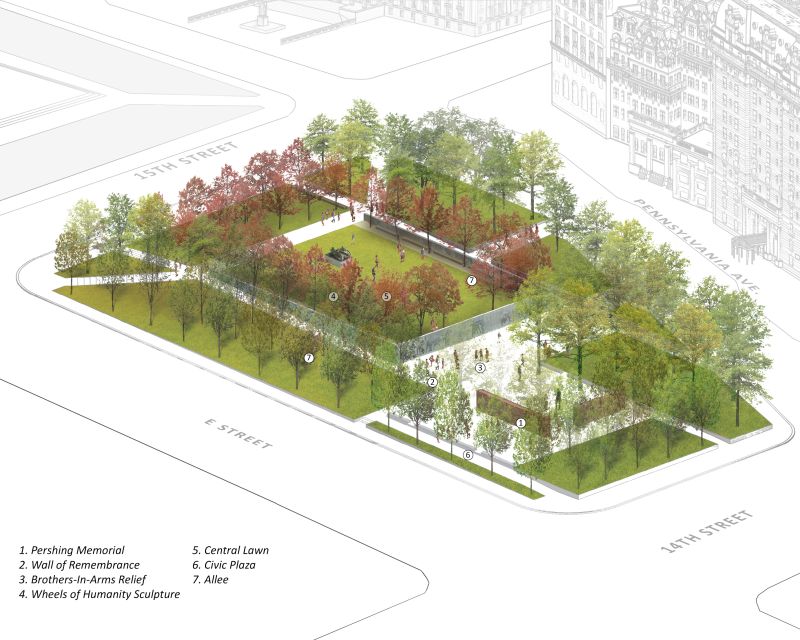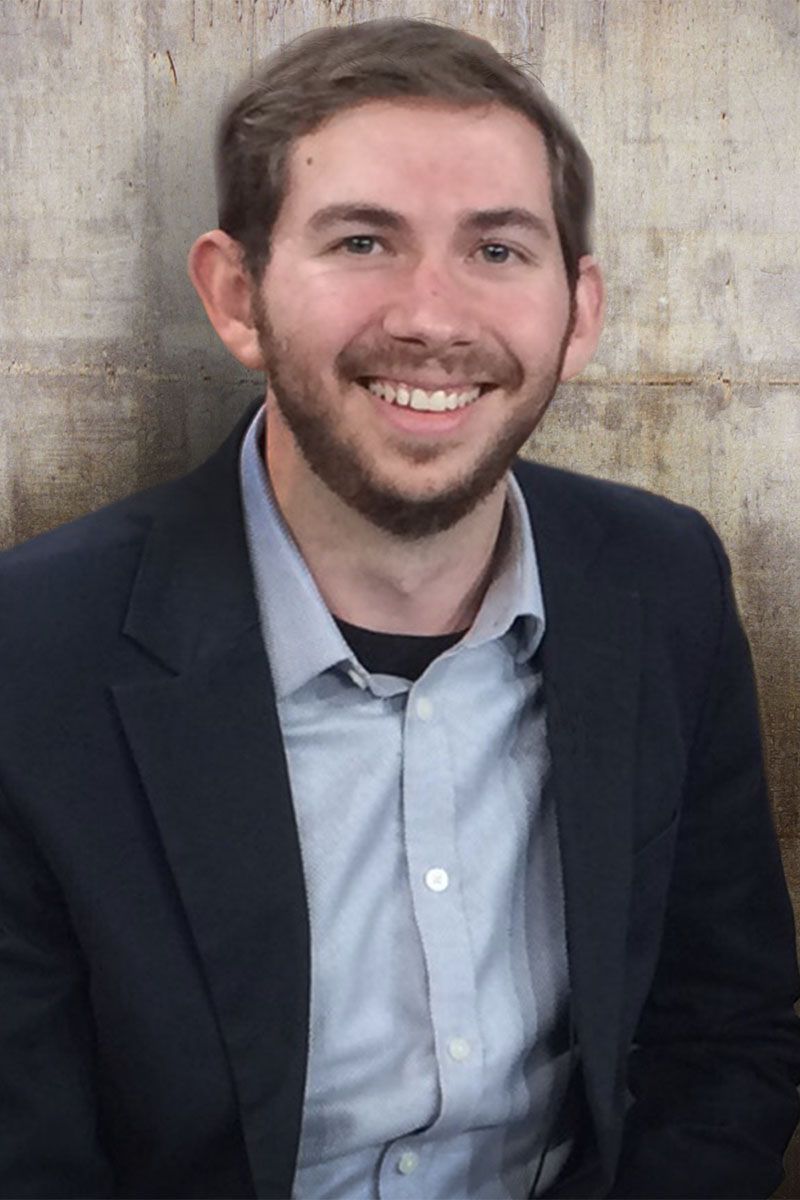 Joe Weishaar