Common areas like the Jim Blair Library Commons at the School of Law provide comfortable spaces for study and socializing. The law school features a gourmet coffee shop that serves as an informal gathering place to exchange ideas among students and professors from throughout campus.
- Photo Russell Cothren
Legal Values
University earns national No. 1 spot for 'Best Value Law School'
By Andy Albertson
University Staff Writer
The University of Arkansas School of Law's reputation for keeping student debt low and prioritizing graduates' success is gaining national attention.
PreLaw magazine named the law school the nation's top value in August, and The National Jurist magazine ranked the law school No. 2 this year as a Top 20 "Best Value Law School." The school made the list the past three years, and this year's 12-spot leap reflects its graduates' success.
"At a time when some law schools cut programs, we invested in areas of student priority," said Stacy Leeds, dean of the School of Law. "It's gratifying to see these investments making a positive impact and that our efforts are being recognized."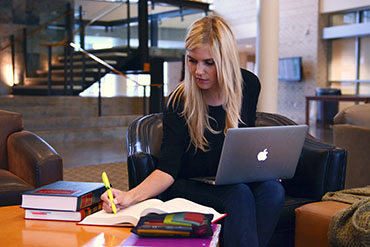 Law school student Cameron Housley serves as a law clerk at the Fayetteville City Prosecutor's Office and plans to pursue a career in criminal law.
- Photo McGee Clopper
The law school has a full-time director and assistant director in its career services office and full-time directors of both its externship program and its student competitions and capstone courses. In addition, the School of Law offers a series of bar exam preparation offerings free-of-charge to all its third-year students.
"The School of Law was an easy choice for me not only for the low tuition but for being in Fayetteville," third-year law student Cameron Housley said. "The idea of law school can be intimidating, but you're taking on less debt here and have a great opportunity to get a job right out of school."
Students also have the unique opportunity to serve on the publications at the School of Law, including the student-run Arkansas Law Review and Journal of Food Law and Policy, and the Journal of Islamic Law and Culture.
"The quality of students here is exceptional," said Dustin Buehler, an associate professor at the law school. "I think the students are drawn by the availability of good jobs in the state and region, the affordability, and the culture and natural beauty of our college town."
Forbes featuredNorthwest Arkansas twice in recent weeks, both as a "Best Place for Business and Careers" and for its emerging entrepreneurial scene. In addition to the thriving local economy, Fayetteville and the region are noted for their livability and outdoor activities.
National Jurist's rankings analyze tuition, cost of living, bar exam passage rates, student debt load and employment success to identify the law schools that offer students the best return on their investment.
The school's climb up the "Best Value" rankings coincides with a similarly dramatic rise in its U.S. News & World Report rankings. The School of Law's rank improved by 40 spots the past six years to 68th overall and 36th among public law schools.
A major factor in the School of Law's surge in the preLaw magazine, the National Jurist and U.S. News rankings is its impressive career placement results. More than 85 percent of the Class of 2012 found employment within nine months after graduation in jobs that require or prefer a law degree.
"Our students have embraced the challenge of actively developing their careers," said Susan Schell, director of career services. "From the time they're prospective students, to enrollment, to orientation, through law school and throughout their career – they know that they can't wait for the jobs to come to them. They network, build their resumes, gain experience, and stay patient and persistent in their job searches."
Learn more about the School of Law, including a detailed report of the law school's bar passage, placement rates, tuition and fees, and other information.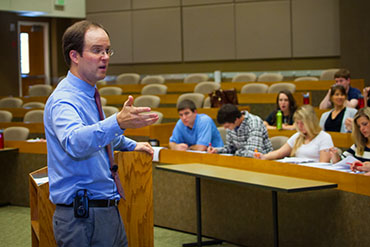 Professor Dustin Buehler introduces first-year law students to the basics of civil procedure in the law school's 200-seat E.J. Ball Courtroom.
- Photo Russell Cothren