On The Road With The U of A
The U of A hit the road across Arkansas for the second year in a row, this time with a bus filled with 40 new faculty members and department heads as well as Chancellor Joe and Sandy Steinmetz and Provost Jim Coleman.
"The best way for our new faculty to learn about Arkansas is to get out and see the state and meet Arkansans," said Ro DiBrezzo, vice provost for faculty development and enhancement and interim vice provost for diversity and inclusion. "We hope to make this a fun annual tradition for our new faculty."
Chancellor Steinmetz took his leadership team across south and central Arkansas last year as a way to meet Arkansans and better understand the uniqueness of the state.
This year, the faculty tour looped the northern part of the state, stopping at schools to engage in dialogue about education needs and trends, and seeing several historical sites — from the Ozark Folk Center in Mountain View to the Johnny Cash home in Dyess and the company town of Wilson — to learn more about the history of the area.
"Our goal for this bus tour was the same as last year," Steinmetz said. "We wanted to introduce the university and its land grant mission to serve the state to the areas we visited and introduce the state to our new faculty."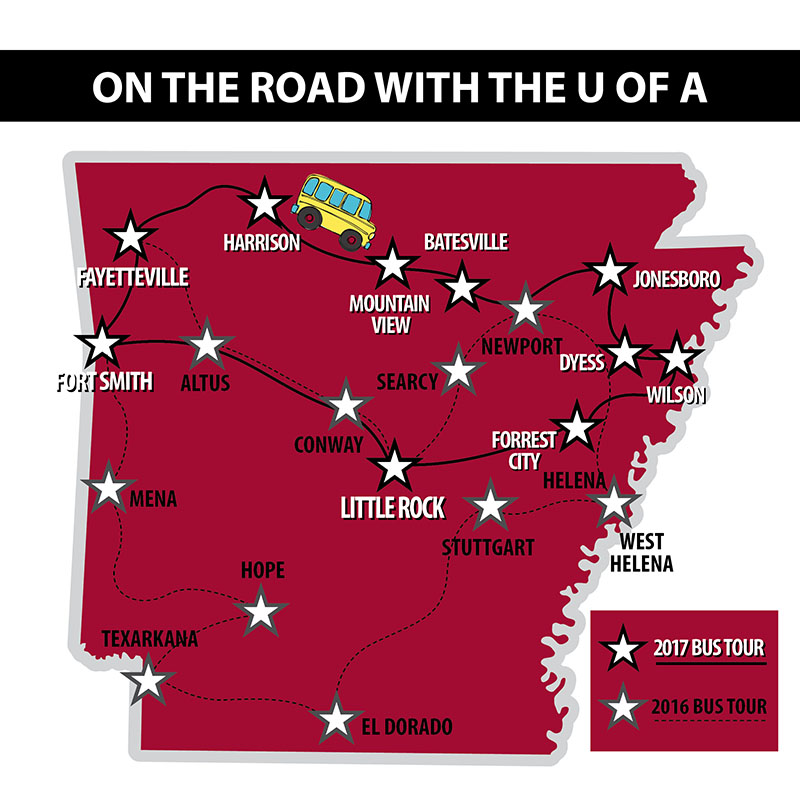 The group stopped by Arkansas State University for a tour and dialogue with colleagues about collaborative research and trends in higher education.
At the Dyess Colony, the group saw the visitors center, formerly the Dyess theater, which was historically preserved and renovated by U of A architect alumnus, Aaron Ruby.
And at KIPP Delta Schools in Forrest City, faculty mingled with students, sharing stories and ideas. Pearl Dowe, associate professor of political science, stopped to talk to a fifth grader about the book on civil rights she was reading. The student asked Dowe about women leaders in the civil rights movement.
"We started talking about gender dynamics in leadership," Dowe said. "It was a great teaching moment."
The bus tour is expected to be an annual event for Steinmetz and new faculty.
"What I love most about Arkansas is the people we meet, their warmth, the pride there is in the state and the pride there is in the University of Arkansas," Steinmetz said.