In addition to his biofuel research at the university, Durant recently researched sustainable extraction of fossil fuels at Stanford and MIT.
- Photo Russell Cothren
Plant Power
International student ferments next-generation fuel
By Kendall Curlee
University Staff Writer
Keiron Durant hovers over the tangle of tubes, cylinders and temperature gauges swaddled in heavy padding and proudly points to a beaker filled with cloudy liquid. The small-scale chemical reactor works around the clock to accomplish something remarkable: the conversion of fermented plant matter into butanol, a biofuel.
Durant, an honors chemical engineering student, began collaborating his sophomore year with Jamie Hestekin, an associate professor of chemical engineering, and other student researchers to convert plants such as algae and sugar cane into a viable fuel source.
"Dr. Hestekin is one of the main reasons I love research so much – he got me really excited about all that he's working on with biofuels and alternative energy," Durant said, his lilting diction revealing his Caribbean roots.
Now, in Durant's senior year, the quest to produce butanol is gaining traction.
"We're starting to do some of this production at a fairly decent scale," Hestekin said. "With Keiron, we're running 500 milliliters an hour. If you wanted to make a gallon of gas, it would take eight hours, so we're not there yet. But Keiron is making fuel that could go into your gas tank."
International Challenges
Durant grew up in Trinidad and Tobago, where the economy revolves around oil and natural gas production.
"For a developing country, there's always the challenge of balancing sustainable extraction and economic development," he said. "Right now, in Trinidad, there is definitely more of a focus on the economic side."
Oil spills and water and air pollution have been reported in his home country, and Durant worries about the health issues that accompany these environmental problems.
"That's one of the main reasons for my research, the idea of bringing it back to my home country, because the environmental and human impact of oil extraction definitely needs to be addressed," he said.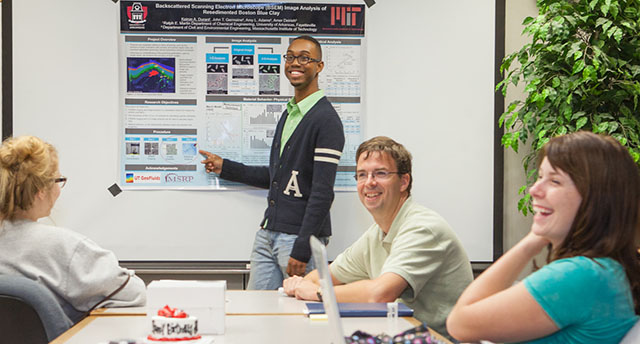 Durant is one of five students working with Hestekin on the development of butanol. They meet weekly to compare notes and troubleshoot challenges.


- Photo Russell Cothren
Honors College Opportunities
Durant chose the University of Arkansas thanks to a competitive scholarship package.
The Honors College awards $600,000 to $1 million in study abroad and research grants each year. This help enables student scholars to conduct fieldwork, present at conferences and study abroad. More than 250 Honors College students received grants last year, including Durant, who received research and travel grants in support of his biofuel research.
"The honors grants, classes, and my honors thesis have allowed me to pursue research I truly have a passion for," he said. "Why not take algae, a pollutant in water, and turn it into something that's useful for us?"
Building a Better Biofuel
Other biofuels, like ethanol, are currently available, but butanol offers a number of advantages. It contains about 30 percent more energy than ethanol and is easier to handle and transport in pipelines. Butanol can also be blended with gasoline at a higher percentage than ethanol, allowing refiners to more quickly meet the Environmental Protection Agency's renewable fuel standards, according to a recent New York Times article.
"Keiron is coming up with a model that allows us to predict the best conditions to run this process. He knows how to do the math, and he's definitely contributing to this project. That's the key thing to know about our undergraduates – they lead."



- Jamie Hestekin
Hestekin's team is among a small group of researchers across the nation that focuses on butanol development. To bring this biofuel to market as a viable alternative, their goal is to produce the greatest amount of fuel in the shortest period of time.
That's where Durant comes in. He uses a computer model to tweak variables like temperature, pressure and how fast the fluid moves through the reactor to see which recipe yields the most efficient conversion of plant matter to biofuel.
Durant has also examined how to extract fossil fuels more sustainably. He explored this topic in summer programs at Stanford University and the Massachusetts Institute of Technology. He was part of an international team of students that explored the use of intelligent field and intelligent well technologies to increase oil field production. They presented their findings at the International Petroleum Conference in China earlier this year.
Fueling the Future
It's been a big year for Durant, who won awards from both the National Organization of Black Chemists and Chemical Engineers and the American Institute of Chemical Engineers. He recently shared his research at the annual meetings of both organizations.
The recognition, Hestekin said, is well deserved. "Keiron is coming up with a model that allows us to predict the best conditions to run this process. He knows how to do the math, and he's definitely contributing to this project. That's the key thing to know about our undergraduates – they lead."
Currently, Durant is researching and applying to graduate programs in petroleum engineering.
"Right now, it's not possible for the world to rely on alternative fuels only. I'd like to find ways to minimize carbon dioxide emissions and maximize oil recovery – basically, make the most of the fossil fuels available to us right now, while preserving the environment."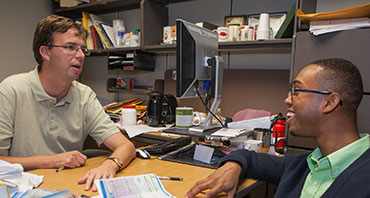 Durant meets weekly with faculty mentor Jamie Hestekin to discuss his progress in the lab.


- Photo Russell Cothren
Related Links: