Photos by: Russell Cothren
Razorback Food Recovery Feeds Community
By Bob Whitby
University Staff Writer
Did you know that about one-third of all the food produced in the United States goes to waste?
Food insecurity — the academic term for not having enough to eat on a regular basis — affects more than 14 percent of American households.
It's worse in Arkansas where more than 21 percent of all households are "food insecure," as are nearly 29 percent of Arkansas children, according to the U.S. Department of Agriculture
The solution seems obvious: distribute surplus wholesome food to those who don't have enough of it. There's a lot more to it, but the University of Arkansas is at the forefront of figuring out how to do just that.
Campus efforts to match food with need began in 2012 when Susan Schneider, director of the University of Arkansas School of Law's LL.M. program in agricultural and food law, wanted to do something about animals suffering due to the extended drought.
Her idea was to collect unsold produce from local grocery stores to help feed wildlife near her home in West Fork. But area grocery stores wanted no part of the project.
"Everyone was telling her, 'Oh no, we can't do that. It's illegal,'" says Nicole Civita, director of the law school's Food Recovery Project.
A little research showed that wasn't true. In fact, there's been a federal law on the books since 1996 that protects food donors from potential liability. The problem was not many people knew about it.
Schneider secured a grant from the Women's Giving Circle, a philanthropic group that supports the university, and the Food Recovery Project was born. Their first job was to help clear up misunderstandings about the legality of donating food.
In 2013, James Haley, a research fellow in the school of law's graduate program in agricultural and food law, put together a legal guide to the federal law that protects food donors.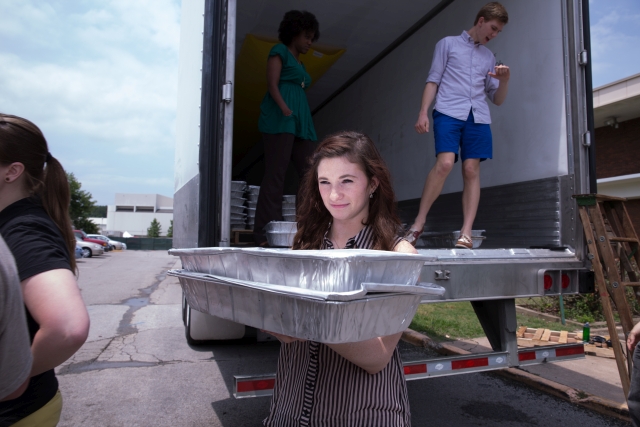 When Civita took over as the project's director in May 2013, she created Food Recovery: A Legal Guide, essentially a one-stop resource for connecting food donors with agencies.
"It was received much more hungrily that we ever anticipated," Civita quipped.
Razorback Food Recovery organized in the fall of 2013 under the umbrella of the university's Volunteer Action Center. Working with university dining contractor Chartwells, Razorback Food Recovery harvested unused food from the Arkansas Union in early 2014.
In October, Razorback Food Recovery took their operation to Pomfret Dining Hall and plans to expand to all three dining halls. As of November, the group had recovered some 20,000 pounds of food, including 12,000 pounds alone from Walmart's annual shareholders meeting in June.
Most of the food is distributed to local service agencies, though some of it stays on campus to meet the needs of university students, faculty and staff at the Full Circle Pantry.
The University of Arkansas was one of the first schools in the SEC to start a food recovery operation. The U.S. Environmental Protection Agency recognized the university for its leadership, collaboration with businesses and effectiveness in food recovery.
"The way I have been phrasing it, food recovery is like recycling for this generation," says Civita. "It's a sustainable and necessary practice and one of those things you can't believe you aren't already doing."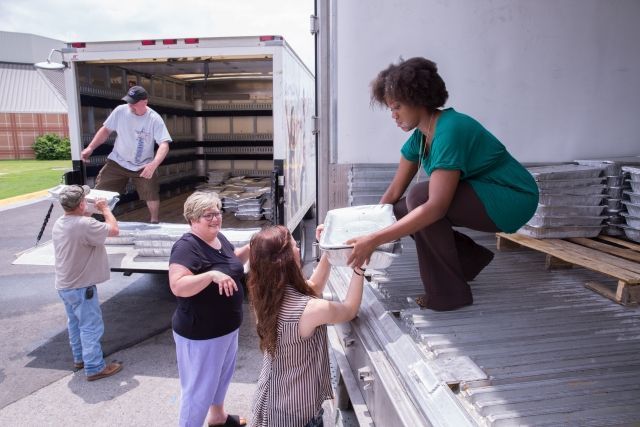 Students and other volunteers help Angela Oxford, director of the Center for Community Engagement, load a portion of the more than 12,000 pounds of food recovered from Walmart's annual shareholders meeting in June 2014.