Steinmetz Selected to Lead University of Arkansas
Joseph E. Steinmetz has been selected as the sixth chancellor of the University of Arkansas. The Board of Trustees of the University of Arkansas System voted unanimously to accept the recommendation of Steinmetz by UA System President Donald R. Bobbitt. Steinmetz currently serves as executive vice president and provost at Ohio State University. His official start date will be January 1, 2016.
"When you conduct a search of this scale the hope is that you're able to identify a very high-caliber individual that is not only well qualified, but the right fit at the right time for your flagship campus," Bobbitt said. "With the help and input of the faculty, staff, students, search committee and search firm, I feel we exceeded that expectation and I'm honored to bring Dr. Steinmetz from an institution as respected and renowned as Ohio State to the UA System. He is certainly the right chancellor at the right time to continue UA's progress into the future."
Steinmetz visited campus on Oct. 12 and 13, meeting with students, faculty and staff before sharing his vision for the future and answering questions in a public forum attended by more than 450 people.
"I am looking forward to joining the University of Arkansas community as chancellor," Steinmetz said. "I thoroughly enjoyed meeting with faculty, students and staff when on campus and felt a deep sense of excitement about the future of the institution from everyone I met there. It is a special place. I thank President Bobbitt and the Board of Trustees for this wonderful opportunity."
Steinmetz has been the executive vice president and provost at Ohio State University since 2013. He came to Ohio State in 2009 when he was appointed vice provost for arts and sciences and the first executive dean of the College of Arts and Sciences. With his leadership, the former five independent colleges of arts and sciences were unified into the largest arts and sciences college in the country.
Prior to Ohio State, Steinmetz was dean of the College of Liberal Arts and Sciences at the University of Kansas and was also a university distinguished professor. He served for 19 years at Indiana University, where he was executive associate dean for the College of Arts and Sciences and chair of the Department of Psychology. At Indiana he was also a distinguished professor of psychological and brain sciences.
Throughout his career and administrative leadership, Steinmetz has been committed to strengthening interdisciplinary research and collaborations across departments and colleges. He earned his bachelor's and master's degrees at Central Michigan University and his doctorate at Ohio University.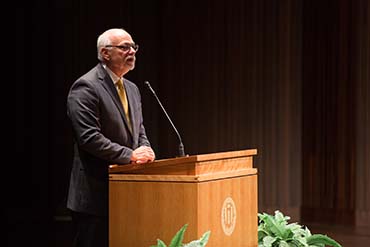 Steinmetz's selection ends an eight-month process led by a search committee established by Bobbitt and supported by Greenwood/Asher & Associates Inc., a leading executive search and consulting firm. The search committee included a diverse group of 17 people representing the Board of Trustees, university faculty and staff, and the private business sector. The search committee evaluated all candidates before recommending three candidates for additional on-campus interviews. The finalists visited campus and participated in public forums.
"The feedback received from the campus community was extremely helpful in this process, and I'd like to thank all of those who took part in the forums, asked questions of the finalists and shared their thoughts," Bobbitt said. "I also want to thank everyone involved for their hard work and dedication to this process and congratulate them on their help to identify, recruit and welcome Dr. Steinmetz. I also cannot thank Dr. Dan Ferritor enough for his willingness to step in and lead the UA again during this process."
Ferritor, chancellor from 1986-1997, has served as interim chancellor since the retirement of former Chancellor G. David Gearhart on July 31 and will continue to do so until Steinmetz begins.