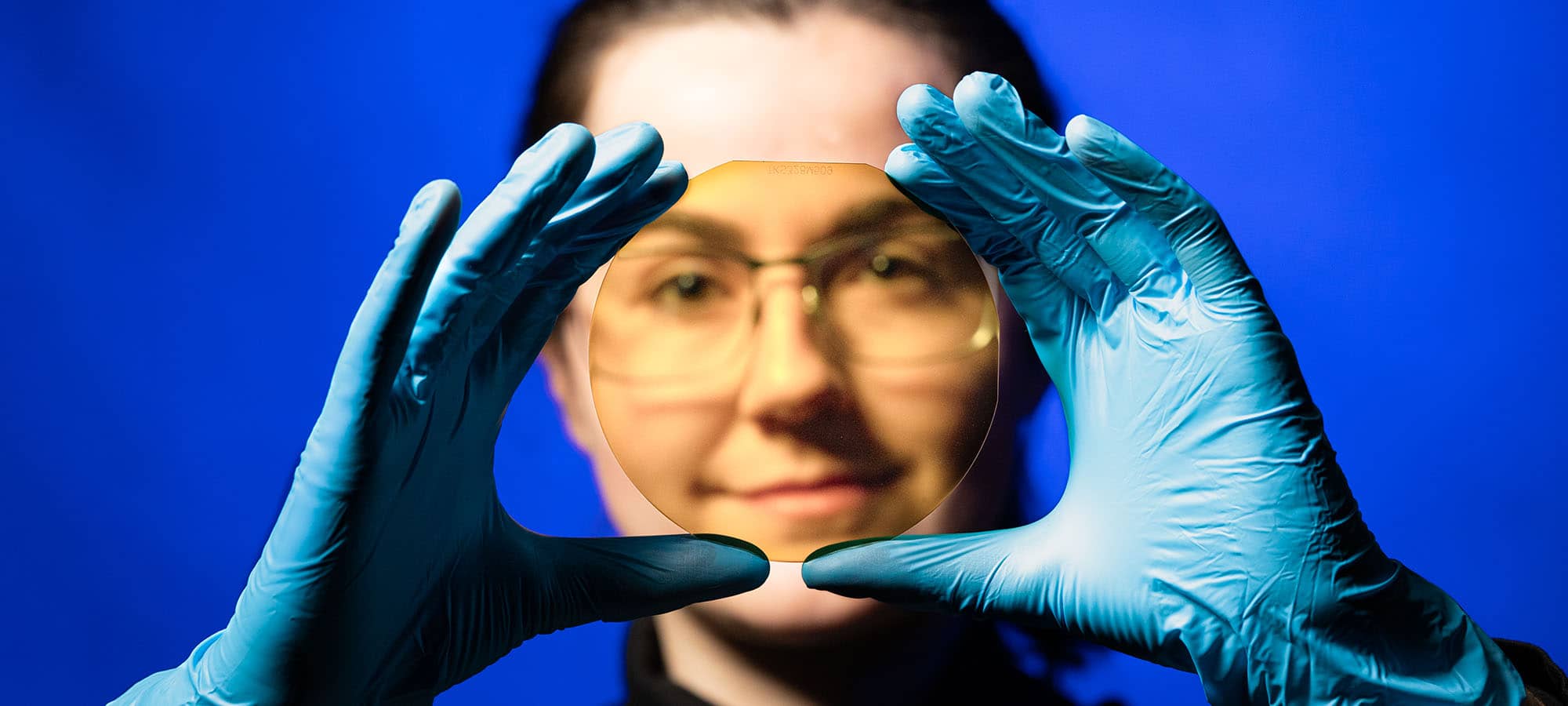 The University of Arkansas is uniquely positioned to be a leader in the United States' future semiconductor economy. Semiconductors, such as silicon, are essential materials in most electronic devices and advance performance in fields such as healthcare, the military, computing and transportation.
We're building partnerships across the Heartland, we have more than 30 years of success in advanced electronic packaging and we are home to the only open-access silicon carbide semiconductor facility for research-to-prototyping in the country.
The benefits to the state, region and country are transformative:
Establishing the U.S. as a global leader in semiconductor performance and production, and reducing the country's reliance on imports
Attracting highly skilled workers to Arkansas and the Heartland
Educating and training the next generation of researchers, leaders and innovators
Bridging university research and high-volume production of semiconductors
Producing new technology that leads to startup companies, attracts new industries and strengthens industry partners
Leading the Way

Members of the U of A administration, faculty, staff, U of A System and Board of Trustees take part in the ceremonial groundbreaking for the Multi-User Silicon Carbide Research and Fabrication Facility (MUSiC).
The University of Arkansas celebrated an important milestone with the groundbreaking on a building that Chancellor Charles Robinson suggested might someday rival the U of A's most iconic structure, Old Main, in significance to the university and the state of Arkansas.
Robinson and other university leaders, including University of Arkansas System President Don Bobbitt and members of the U of A System Board of Trustees, as well as researchers and industry leaders, gathered at the Arkansas Research and Technology Park in South Fayetteville to celebrate construction of the national Multi-User Silicon Carbide Research and Fabrication Facility, or MUSiC.
Recent News
Manipulation of Atomic Ordering for Manufacturing Semiconductors, or µ-ATOMS for short, the newly established Energy Frontier Research Center funded by the U.S. Department of Energy, hosted its first annual conference in late August. The researchers and administrators of the participating institutions as well as DOE program managers, external advisory board members and collaborators met together at the U of A.
With $18 million from the National Science Foundation (NSF) and additional support from the Army Research Laboratory, the University of Arkansas has broken ground on a national silicon carbide (SiC) research and fabrication center.
Anyone recently shopping for a new or used car has undoubtedly experienced the shortage in available automobiles. One contributor to this is the decreased availability of semiconductors and chips, which are required to maintain the level of electronification and automation in cars today.
Podcasts and videos
Creating Materials and Devices With Quantum Technologies
Hugh Churchill, associate professor of physics in the J. William Fulbright College of Arts and Sciences, discusses the MonArk NSF Quantum Foundry and portable air filters that remove infectious airborne particles, including respiratory droplets that carry coronavirus, from indoor spaces.
Lab to Fab; Mantooth Discusses Semiconductor Research and Fabrication at the U of A
Distinguished Professor Alan Mantooth defines semiconductors and discusses why the University of Arkansas is uniquely positioned to be a semiconductor research and fabrication hub in the heartland of the United States.
Collaborate with Us
The University of Arkansas collaborates on semiconductor R&D with leading institutions such as Stanford University, University of California-Berkley, Montana State University, George Washington University and Arizona State University. We are also partnering with the National Renewable Energy Laboratory, Argonne National Laboratory and Sandia National Laboratory. We have access to some of the largest companies in the world, and we are building new partnerships every day. Interested in working with us?
Collaborate with Us